Asterisk User Conference & Expo- AstriCon 2016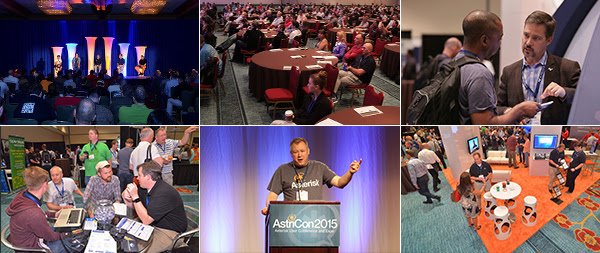 Dear Friends,
If you, like me, have a tendency to leave things until the last minute, you may be in danger of missing out on AstriCon this year - as it is a little earlier than usual, September 27-29 in Phoenix, Arizona. www.astricon.net
AstriCon is the annual event for the Asterisk community - including corporate users of Asterisk systems, developers, hardware manufacturers and emerging companies. Join in three days of nothing but Asterisk-themed talks, demos and Expo exhibits - inevitably bound to help you learn more, progress your projects, perfect your solutions or even find customers for your new Asterisk-related thing!
Key members of the Asterisk development team will be on hand to chat and answer questions, as well as presenting (along with Matt Jordan, Digium CTO) some of what they have been up to in our closing keynote session...
Talking of keynotes, we have two more top class addresses this year, from Bill Ledingham, CTO/EVP of Engineering at Black Duck Software and Chris Matthiue, Director of IoT Engineering at Citrix.
You really don't want to miss those... www.astricon.net
In addition to all of the above, there are more projects than ever before represented in our Open Source Showcase this year - including Kamailio, FreeSWITCH, Homer, CGRates and OpenSIPS! As always, Asterisk initial creator, Mark Spencer and Allison Smith, the first lady of Asterisk will be on hand to participate in all the fun.
As well as coming to AstriCon yourself, you could always share the love by bringing some colleagues with you, using the excellent Diamond Pass. Full details at www.astricon.net
Hope I get to see you in Arizona - the show kicks off in four short weeks!
All the best,
David Duffett
Director of Worldwide Asterisk Community
Digium
posted in Self Promotion